Erik is a lovely young Pointer cross (Labrador?) boy who was recently handed into the pound in Ireland when his owner decided he had grown too big and strong for her to manage.
He was taken into a local dog rescue who then asked us to help. He arrived this morning, and is currently in foster with me in N.E. Lincs.
A picture of Eric the day he arrived at the rescue - very unsure of what was happening to him but still being friendly
He is in perfect health.
He is vaccinated, micro-chipped, neutered and holds a full Pet Passport.
As a surrender to the pound, we know little about him. We do know he was born in May 2016. He lived with a lady and her teenage daughter and was kept much of the time in a small garden / run. We don't believe he was routinely walked as he seems quite under-socialised.
Anyway, after spending several weeks in an Irish rescue kennel whilst he waited to get legal to travel (i.e. got a Pet Passport) he arrived in the early hours this morning.
So he travelled well in my car on the 2.5 hour journey home. He has explored the garden - often at speed!
First zooms ...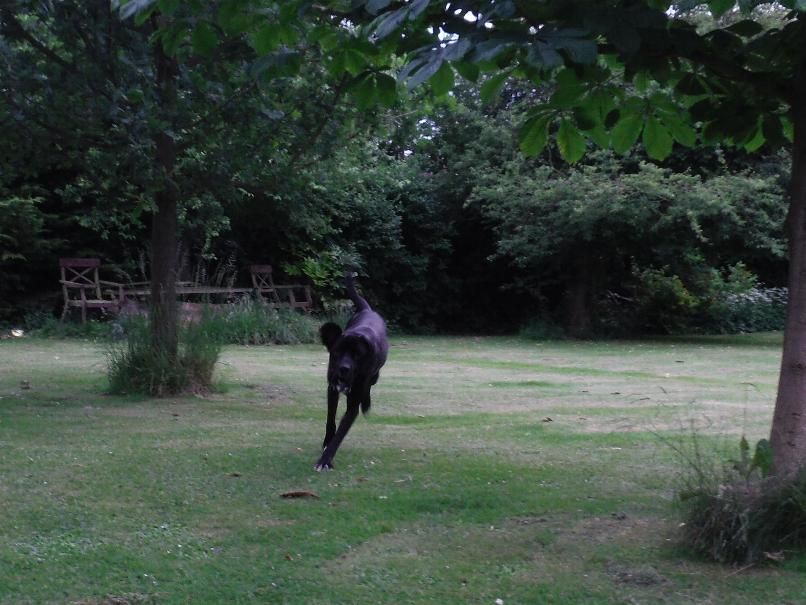 ... too fast for the camera to keep up (as it was still early so a bit grey
)
Then meeting my two older resident girls - he was very good with them and kept out of the way when asked.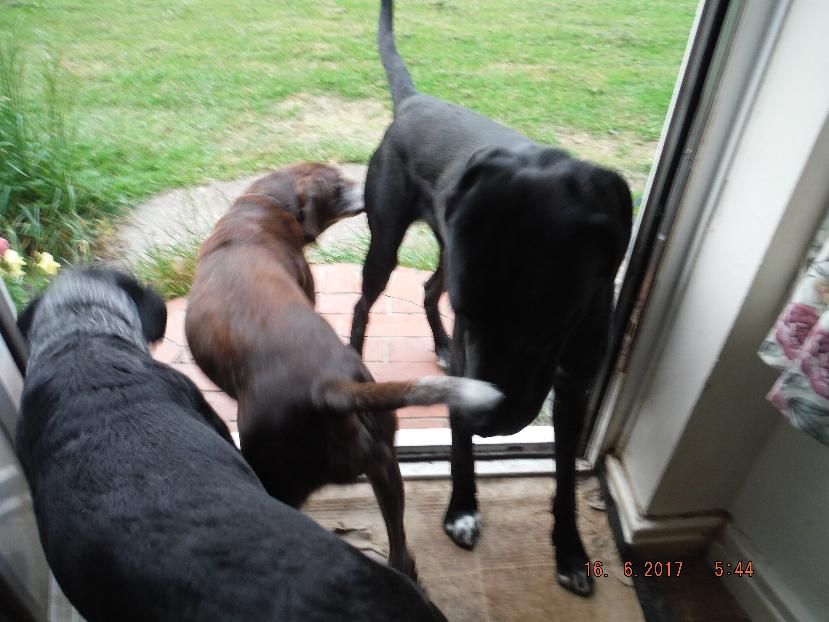 He then approached Lizzie calmly for a chat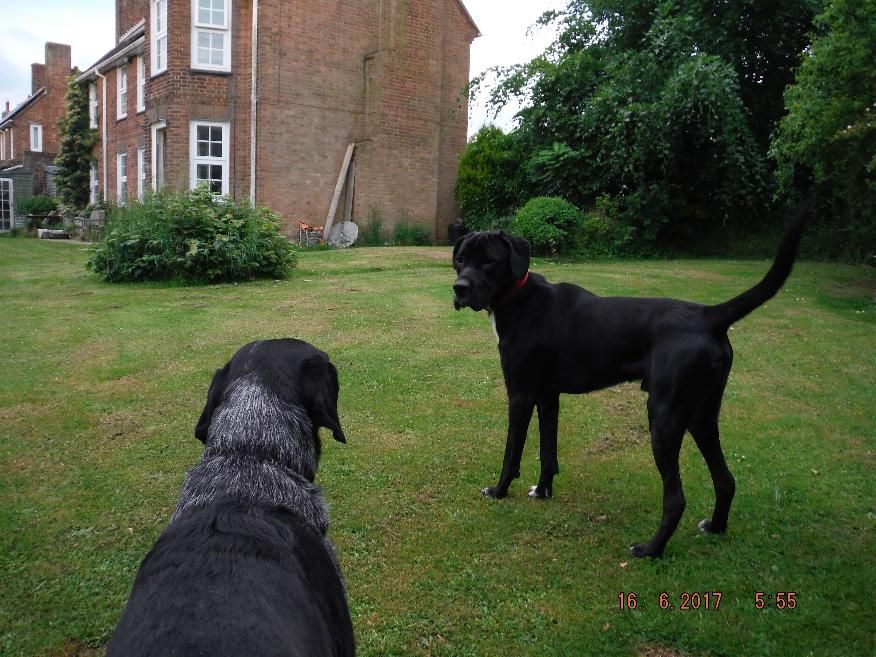 Zoe my other foster girl had already chased him around the garden several times to show just what she thought about having an adolescent boy here, and then there was bit of a Mexican stand-off where Erik wasn't too sure how close he could get - apparently 8 ft was about it!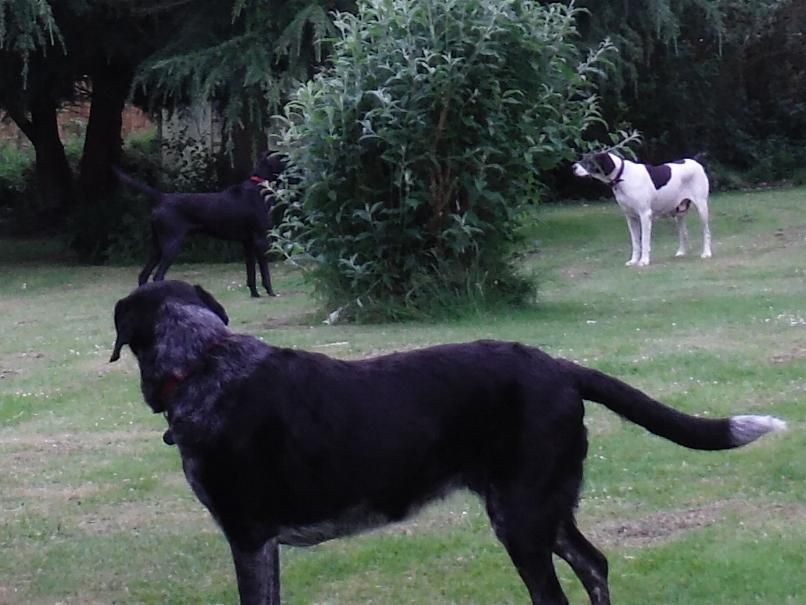 Once the dogs had settled a bit we all went and had some breakfast. Erik in the pen out of the way of the girls.
So all looking good.
He has now been here about 7 hours.
It is obvious that he has little experience of being in a home, as whilst perfectly confident, he has no manners, and is jumping up to look at everything, and helping himself to random items.
But he is very friendly and keen to please - he does know how to sit for a treat, which has helped when he has taken things as he will swap them for a treat!
He is strong on the lead, but that is no surprise as he has little prior experience of walks until his recent stay in kennels - but even then he was only walked off the premises when volunteers were available at weekends.
As I may need to grab him to stop him getting into trouble for now at least, he is wearing a light-weight lead for now, as no dog likes being grabbed by the collar, and certainly that could make him more hand-shy than he currently is (i.e. he is wary of a hand going over the top of his head - probably as he has been grabbed by a collar previously).
He doesn't seem to know how to play either - as whilst he runs after leaves blowing in the garden, he has no concept of picking up balls or whatever.
He can open doors (with lever handles at least)!!!
He seems happy in a crate, as I popped him in my large crate in the kitchen for an hour whilst I removed some of the more tempting items in the living room that I thought he might be tempted to misappropriate. He was in their alone and not a peep out of him - good boy!
He isn't house-trained, but has only had a couple of wee-accidents inside - other stuff in the garden, but adult dogs normally learn to go outside very quickly.
He has already learnt to let himself back in the house through the dog flap!
He's had another mooch around the garden in the sun ... this picture made me laugh as he was trotting away, his house-line lead obviously bounced up, so it looks as if he is being held by an invisible handler!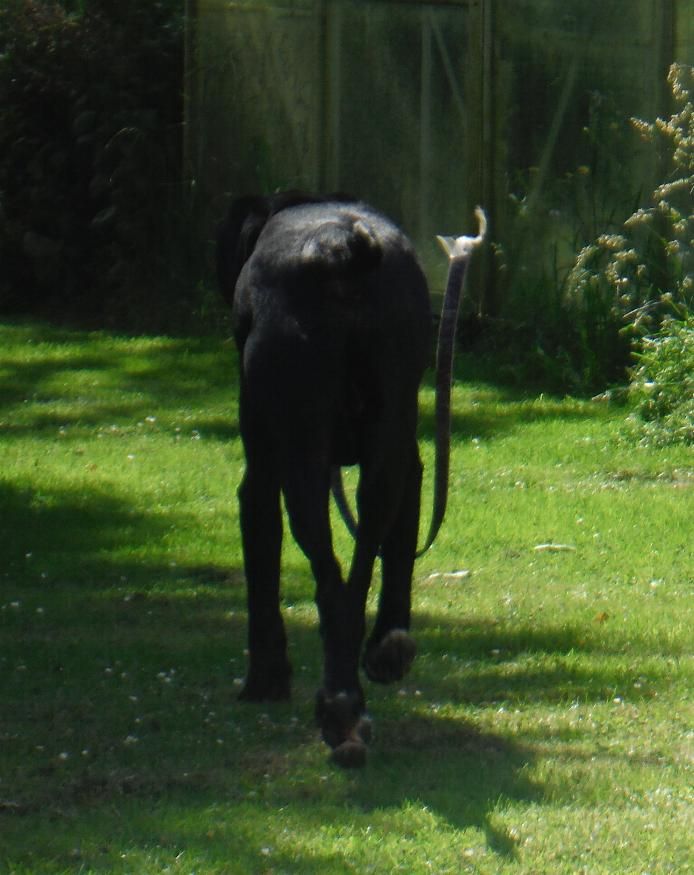 He then had a chat to my oldie girl Holly very politely - as you can see he is a lot bigger than her, although in fact he is about 25" at the shoulder - but Holly is tiny for a GSP!!!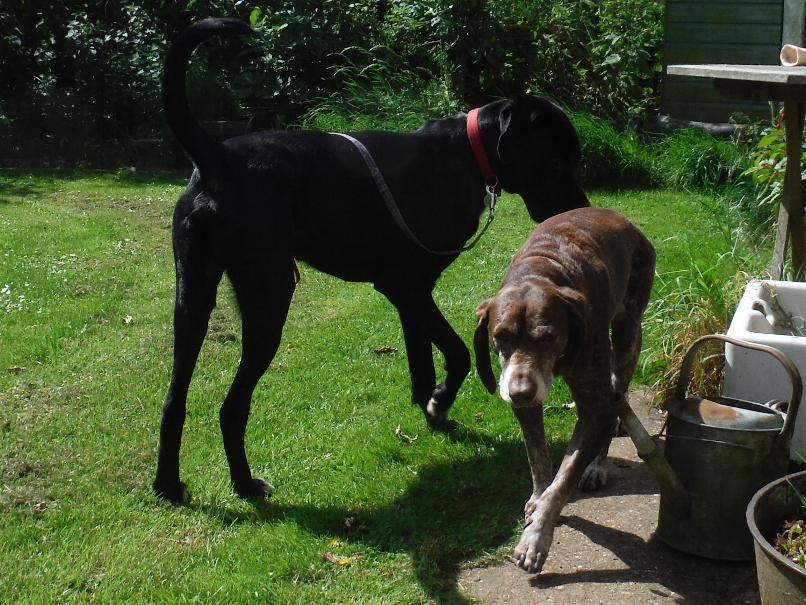 So all in all a nice boy. Yes, he will be a project for his new family, as basically you have little more than puppy knowledge, but in an adult body. But that does have the advantage that there are no exercise constraints as he is mature enough to go for long walks etc., plus he can take more intense training than a puppy would, so changes will come quickly and be very rewarding.
So Erik is seeking an experienced home with someone who wants a lovely friendly type of dog which they want to train in their ways. As he has lived as an only dog to date, he should be fine to continue, although would likely enjoy an active canine companion. As we do not know what he is like around small children, he can only be rehomed with older (teenage?) dog savvy children. We will not rehome him with cats or other small furries as we do not know what he would be like. His new family must be ready to start with the basics, and understand that he is a blank canvas at the moment.
Erik is currently in a foster home in N.E. Lincs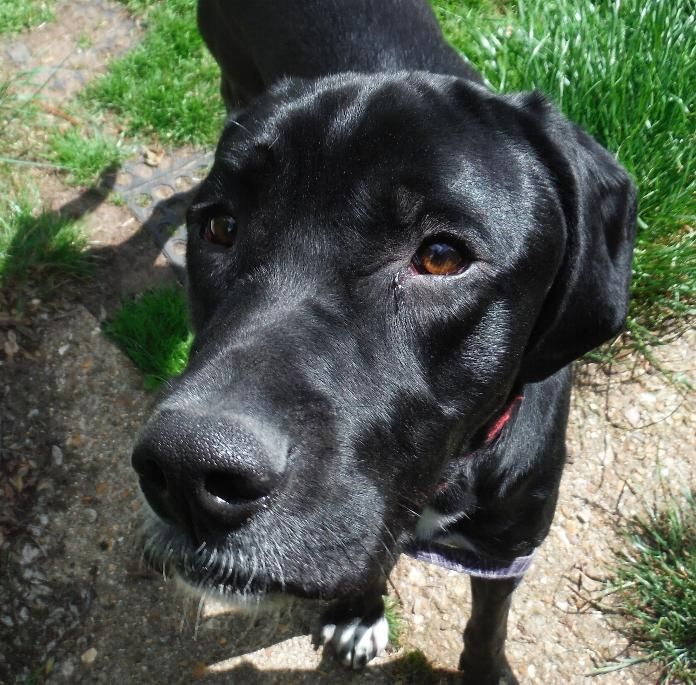 If you are interested in offering Erik a new home, please get in touch.
N.B. If you haven't already done so, please complete our on-line Adoption Interest form before getting in touch:-
http://www.gsprescuesw.co.uk/adopt.html
Thank you.